Gone are the days for general Physical Education programs to blanket the entire high school population when needs are very different between the general student and the student-athlete.  Every state is extremely different when it comes to the spectrum of high school strength and conditioning programs. Some states have very well-established strength and conditioning programs that start in middle schools, while some have very little structure for their student-athletes and rely on sports coaches for performance training.  
The goal of this blog is to share some ideas to consider when starting a new high school strength and conditioning program. 
Hire Quality Strength Coaches
Selecting qualified strength and conditioning coaches and staff that are knowledgeable, confident, and experienced in programming ensures you are laying a foundation for a quality program.  Characteristics to look out for in your selected strength coaches are: flexible, student-centered, committed to continuing to learn, grow and develop their craft.  When in doubt a quality strength coach will make decisions based on what is best for his/her student-athletes. 
Set Your Standards
Decide what your "non-negotiable" expectations are for your programming, student expectations, care of your weight room, etc.  Ensure that all coaches establish and set high expectations for both the program and all students that are firm, fair, and consistent.  It is vital in a successful program that the standards be consistently upheld and demonstrated.  
Campo Verde High School Weight Room Standards:
Be here – Be on time

Be Coachable (Positive Attitude)

Be Disciplined (Details)

Work Hard (Effort)
Design your weight room and select the appropriate equipment
Work with a trusted and established company to design a weight room that will allow your student-athletes to train effectively.  Choose high-quality strength equipment and ensure that your weight room equipment choices fit your programming and estimated number of athletes that you will be training.  Working with a reputable company will ensure your weight training room be designed within safety standards for your student-athletes. 
Have a plan to care for and maintain your equipment and room
Devising a maintenance plan for your student-athletes and staff to follow will keep your room safe and operable.  Two ways to help start this plan are: 
Follow manufacturer guidelines for equipment maintenance. Set up weekly, monthly, and quarterly equipment checks. 

Establish proper daily and weekly sanitation processes for your equipment and room.
Establish Positive Relationships 
The most important relationship to establish comes from your student-athletes, make sure they know how much you care about their success and build trust with them. Next, communicate clearly with athletic coaches and educate them on the goals and objectives of your program.  Let them know you are there to serve the student-athletes and their sports programs.
 Build positive bridges from home life to school life by getting to know the parents of your student-athletes at events.  A high-quality strength coach will take time to build relationships with colleagues such as athletic trainers and athletic directors, as well as, get to know people in the community that will help elevate their circle of influence for their respective program. 
This blog was written by Nick Cornell, Campo Verde High School PE Coach, and Head Strength and Conditioning Coach in Gilbert, Arizona. 
 Nick Cornell has been a teacher, coach, and Athletic Director in his 29-year career in education. 27 of those years in Gilbert Public Schools. During the past 13 years (2009-present) he has taught Physical Education (Sports Training) and serves as the PE Department Chair, Strength & Conditioning Coach, and Assistant Varsity Football Coach at Campo Verde High School. Coach Cornell also serves as the State Director (AZ) of the National High School Strength Coaches Association (NHSSCA).  In addition to his campus responsibilities, Coach Cornell also serves as the GPS District Secondary Wellness Coach. Prior to coming to Campo Verde High School, Nick served as a teacher, coach, and Athletic Director at Mesquite High School from 1998-2008 as well as a teacher and coach at Greenfield Jr. High School from 1995-1998.  Coach Cornell earned his BA degree from Arizona State University (1992) and a MA Degree from Northern Arizona University (1997).  Coach Cornell has been married for the past 29 years and he and his wife have two children age 21 and 16.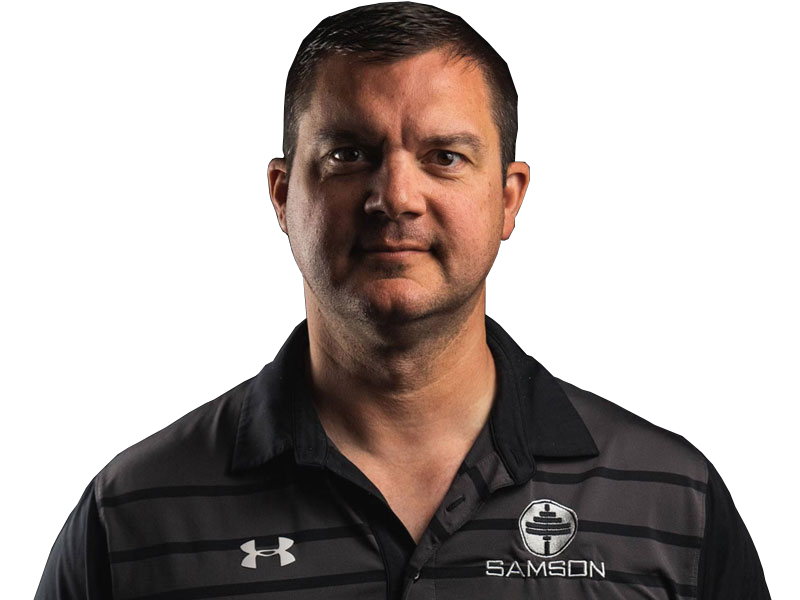 Email Sales Director, Scott Schroeder for your free layout consultation:
800-472-6766 ext 202
Director of Sales , Samson