Coaches and administrators rarely have the opportunity to lead a capital project such as a new weight room build or an existing weight room renovation.  A reputable company will assist you throughout the entire planning process to ensure you have a facility you'll be proud of.  Our Samson team has compiled some bullet points to consider when a new weight room is on the horizon for you. 
Consult with your strength coach and/or all coaching staffs involved

Depending on your staffing situation for your athletic performance team, inclusion discussions will vary. In the high school setting, when a strength coach is present, it is vital that your strength coach have a large voice in this planning process. When a strength coach is not on staff, it is important that the physical education teacher and sport coaches that have their teams in the weight room be involved and have a voice. 
In the collegiate setting, when a strength coach is present it typically is in an administrators best interest to allow the strength coach to take the lead on this planning process. In the absence of a strength coach at this level, it is vital to include sport coaches that utilize the weight room as well as reach out to other administrators who have had successful weight room installations for their input.  
Determine how many athletes will be training at any given one time

The number of athletes will be determined by coaches who utilize the weight room the most. It is vital to understand how many athletes you need to plan for when laying out your room. Oftentimes projects are limited by space, so it is important to work with a company who will maximize floor space to cater to your needs.  When space is a limiting factor, coaches can begin to take in mind room flow and how to separate lifting groups for maximum safety and training execution.  
Discuss training philosophy and programming for athletes

Training philosophy and programming are very important factors to consider when planning the equipment selection and layout of the weight room.  There is not a one-size fits all when it comes to the weight room. Types of equipment and quantities are affected by your coaches training philosophy and how they choose to program for their athletes.  When planning for a new room, it's important to consider these two factors to assist you in the decision making process for equipment selection. 
Plan for athlete safety

This is very often overlooked by companies looking to shove product onto you and make a sale.  Assessing how much space between lifting stations is at the top of our lift to ensure there is a proper amount of area to lift in for the athletes. Keeping equipment away from high traffic entries and exits is a good rule of thumb to follow in planning your layout. Proper ventilation of the room is also something to keep top of mind when building a new building or upgrading an existing one.  
Gather as much info as possible about the room itself

Whether this be a renovated room or a brand new building, it is crucial to gather all the information about the room itself which include but are not limited to the following.
Accurate dimensions of the room. Length, Width, Height for all the space. Architectural blueprints work great here.

Any obstructions such as HVAC systems, support pillars/columns, low hanging lights and fixtures, short ceilings.

Entry and Exit doors, and their size. Also, the direction of how the door hinges.

Any other unique notes pertaining to room location such as second or third floors, basements, etc.  

Window and Mirror locations to ensure maximum safety from these being accidentally broken. 
Know and plan within your budget

Talking money is never easy but it is one of the most important factors when planning a new weight room. Knowing what you can and can't afford will help point you in the right direction for your project, as well as prioritize purchases.  With keeping budget and priorities in alignment you'll make much better informed decisions throughout the process.  

Our Collaborative Planning Process allows you to prepare your project stress free by allowing our team to become your personal project manager.  The real-time planning and organization of thoughts gives you back time and clarity as a leader.  If you'd like to schedule a FREE CONSULTATION, please fill out this form.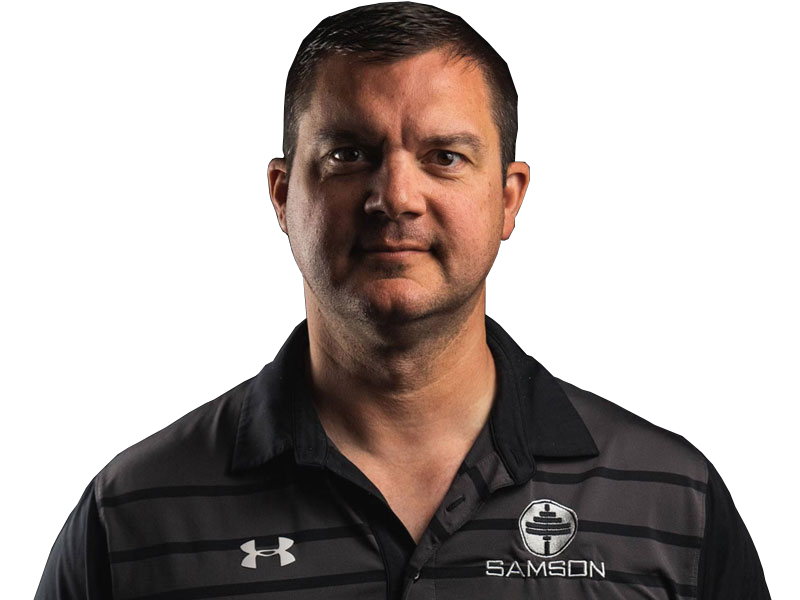 Email Sales Director, Scott Schroeder for your free layout consultation:
800-472-6766 ext 202
Director of Sales , Samson