Space in an athletic weight room is a precious commodity.  Being able to effectively plan an optimal training environment for athletes comes down to expertise and products to execute with.  Samson Equipment takes great pride in listening and creating solutions for our customers to utilize.  A featured and popular selling product is the Functional Training Rack (FTR).
This rack was developed over some beers with strength coach Tommy Heffernan and Brian Schroeder at a Hawaii Strength Clinic many years ago.  The Hawaii Strength program was looking for solutions to fit their oddly shaped room to include full lifting racks as well as a complimentary functional training weight stack to execute auxiliary training movements.  This conversation led to a deep dive and design with company founder Dave Schroeder.
The outcome was an industry first, Samson FTR.  This rack consisted of a classic Half Rack with two 250 pound weight stacks infused into the frame of the rack with a separate column for full high-low adjustability coming off of the front of the rack.  Since its inception, the FTR has been Samson's most popular product in weight room planning and solutions.  
Overtime, the Samson FTR evolved providing a variety of options for customers to fit their needs. They say imitation is the highest form of flattery and many companies have since attempted to duplicate the original, however we have stood the test of time. Shown in the following pictures you can see the FTR in its many forms. 
Samson also considers that not every school is able to afford a full room of FTR racks on the first go and this what makes the Samson Flex-Rack such a game changer for the weight room, as you are able to upgrade later to any of our rack combinations as well as making it an FTR Rack.
Functional training rack
The University of Colorado has both Power Racks with Cable Column Systems off the back and Half Racks with Cable Column Systems built off the front of the racks. Coach Englehart loves the versatility and durability that the Functional Training Racks provided him.
University of Colorado
Double-rack with single side ftr
Second Baptist's newly renovated weight-room is equipped with the Samson Flex-Racks Double-Rack with two FTR cable columns off the front which allows a multitude of workouts and multiple athletes are able to make use of the rack at the same time.
Second Baptist High School
Rear dual cable column FTR
Moriarty High School was one of the first schools to upgrade their weight room with our newly design Samson Flex-Racks with the Rear Dual Cable Column which allows for athletes to lift off the front of the rack while using the cable columns off the back. 
Moriarty High School
dual sided ftr
The custom Double Sided FTR Racks that the University of West Florida got installed in their weight room were a true Samson custom build. These racks were equipped with 4 FTR columns on each rack and plenty of space for two people to lift at the same time. The racks also include custom branded shields and plate storage created specifically for these racks. Every square inch of this facility was custom designed in some form or fashion.
University of west florida
Lat/row + cable column combo FTR
This weight room for Lawrence High School features four Functional Training Rack Combos and six double sided racks. The FTR Combo fit four Lat-Row Combo Machines and four Hi-Low cable columns in a small amount of space facing the dumbbell pit for accessory work.  The FTR Combo provides an open Half Rack lifting station for athletes to have simultaneous use of the rear and front of the rack.  This room allows for 50-60 athletes to train safely at a time.
Lawrence High School
Our Collaborative Planning Process allows you to prepare your project stress free by allowing our team to become your personal project manager.  The real-time planning and organization of thoughts gives you back time and clarity as a leader.  If you'd like to schedule a FREE CONSULTATION, please fill out this form.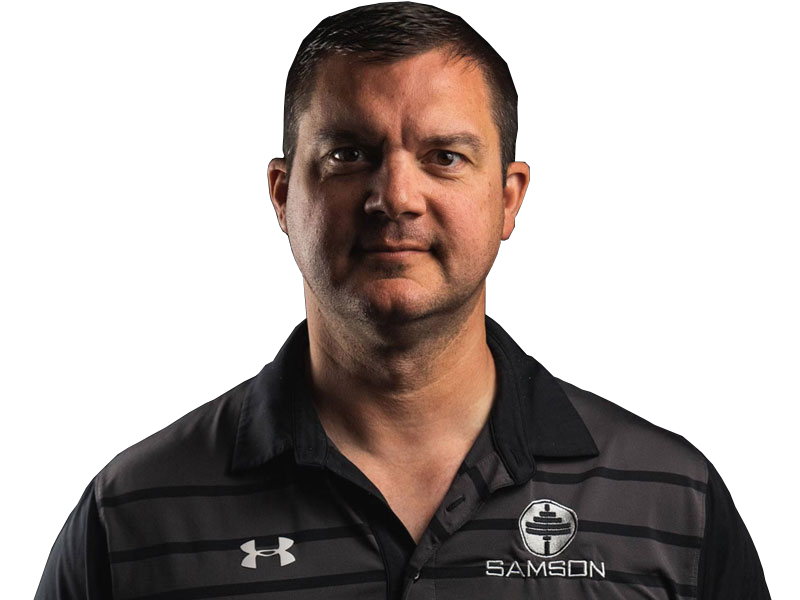 Email Sales Director, Scott Schroeder for your free layout consultation:
800-472-6766 ext 202
Director of Sales , Samson