All great training facilities and weight room begin with a solid foundation and floor.  The proper maintenance and upkeep of your floor will extend its life. When it comes to weight room floor maintenance or sports turf cleaning in your athletic facility, there are many questions that get asked. 
How do I clean my rubber floor? How often do I clean it? How do I sanitize both surfaces?  These are all great questions that must be answered to ensure that you get the most out of your athletic flooring.
How do I properly clean athletic flooring?
When maintaining a rubber floor, you must make sure to vacuum and sweep up dust and debris daily. This is key to keeping the sports flooring clean before you continue to the next method, which is mopping or auto-scrubbing. The best possible method to clean and maintain rubber flooring is to use an auto-scrubber machine with a neutral Ph Cleaner. 
For daily and weekly sports floor maintenance, using the nylon fiber brush that is already on most auto-scrubber machines will suffice. If you do not have access to an auto-scrubber machine, then you can use a microfiber mop with the neutral Ph cleaner. It is key to remember that the neutral Ph cleaner must be diluted with water (Remember that a little solution goes a long way).
When maintaining indoor, non-infill turf flooring, you should vacuum all dust a debris daily. Make sure to use a vacuum without a wire brush as this can damage the turf product. 
How often do I clean gym flooring?
To ensure that your rubber flooring is maintained properly, it is recommended that you mop daily and auto-scrub at least once a week. Every 6 months to a year, deep cleaning and conditioning are highly recommended. This process entails using a cleaning solution, typically a stripper, and heavy-duty buffer pads with your auto-scrubber machine. 
Depending on the severity of the deep cleaning, a red or black buffer pad will be required. Black buffer pads are the most abrasive and are used for heavily soiled sport surfaces. By using these materials, you will clean deeper into the rubber flooring achieving a more thorough cleaning but most importantly, it brightens the color of your flooring to its original state. In addition, this process also conditions the rubber to become more durable for you over time.
To ensure that your turf flooring is properly maintained, it is recommended that you vacuum with a non-wire brush vacuum at least once a day. Depending on the type of turf you have and the manufacturer's recommendations, a deep carpet clean may be recommended. Confirm with your turf supplier before engaging in this type of cleaning.
How do I sanitize the surface of the weight room flooring?
For both rubber flooring and turf flooring, the sanitizing process is the same. To properly sanitize your athletic flooring surface, use a neutral disinfectant such as EnviroCare Disinfectant or approved products by your rubber or athletic turf supplier. To disperse the disinfectant, you can use a fogger machine or a spray bottle.
Following these protocols and procedures will help you to properly maintain your flooring and get the most out of your flooring during its life cycle.
This blog was written by Bryan Benzor, Owner and President of Premo Source. The Premo Source assists athletic programs in designing, transforming, and maintaining their athletic facilities. With a specialty in weight rooms, we can transform your vision into a reality! Visit www.thepremosource.com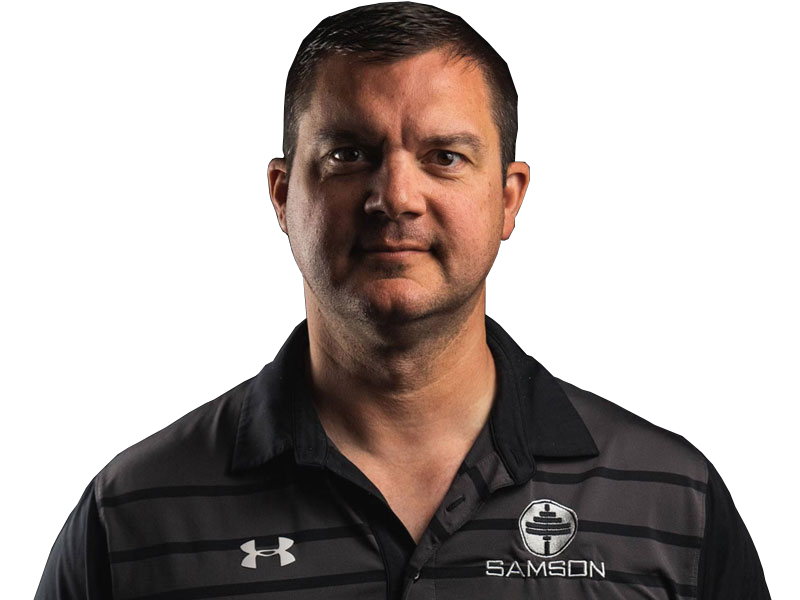 Email Sales Director, Scott Schroeder for your free layout consultation:
800-472-6766 ext 202
Director of Sales , Samson