At Samson, we understand the difficulties that coaches face in creating a functional and effective weight room. Whether you are limited by budget or space, it can be challenging to find a way to equip your weight room with everything you need to train your athletes effectively.
That's why our team of experienced coaches and professionals have come together to share their insights and expertise on how to get the most out of your weight room, no matter its size or budget. In this blog, we'll share our best practices and tips on how you can maximize your space and equipment to create a weight room that truly meets the needs of your athletes.
One example of Samson's expertise is the project they completed for The University of Northwestern-St.Paul. The Eagles had the challenge of turning an existing racquetball court into a functional weight room for student-athletes, staff, and alumni. With Samson's help, they were able to create a room that made the most of every square foot.

 The Eagles' weight room was outfitted with 6 Flex-Rack low-profile stations horizontally linked and 6 adjustable cable columns on one side of the room, providing a versatile training space for all users. Custom vertical dumbbell storage was also created to keep the room organized and clutter-free. This room also used Samson's super versatile wall storage on the Flex-Racks which keeps the plates out of the way and saves even more space between racks.
Here are some tips to keep in mind while maximizing space with efficient equipment:
Vertical storage 
Vertical storage is a space-saving solution for weight room facility setups where floor space is limited. By installing vertical storage racks on the wall, you can store and organize your dumbbells, kettlebells, and other equipment in an easily accessible manner, freeing up valuable floor space for exercising. The vertical storage racks can come in a variety of shapes and sizes, depending on your specific needs and the type of equipment you have. Installing a vertical storage system helps to declutter your workout area and ensures that your equipment is not scattered around the room, making it easier to find and use when needed. Additionally, by keeping your equipment organized, you can maximize the use of your available wall space and create a more functional and efficient workout environment.
Multi-functional equipment
Multi-functional equipment refers to exercise equipment that can be used for multiple exercises, allowing you to get the most out of your workout with minimal space requirements. Investing in multi-functional equipment is a smart choice for those who are limited in space, as it can help you maximize the use of your workout area.
Adjustable benches, for example, can be used for various strength training exercises such as bench presses, shoulder presses, and tricep extensions. Multi-station weight machines typically offer multiple exercises in one machine, such as a leg press, cable fly, and leg extension.
Functional trainers, also known as cable machines, offer versatile workout options as they can be used for exercises that target different muscle groups such as the chest, back, legs, and arms. They are also compact and can be easily adjusted for different height levels, making them suitable for a variety of users.
Compact designs
Compact design is a crucial aspect to consider when setting up a home gym, especially if you have limited space. Equipment with a compact design is ideal as it takes up minimal floor space while still providing the necessary functionality for your workout.
Vertical storage weight benches, for example, can be easily stored away when not in use, freeing up valuable floor space. Adjustable barbell stands offer the ability to perform various barbell exercises while taking up minimal floor space. Weight trees with multiple tiers are a great way to organize and store your plates, kettlebells, or med balls, taking up less space than traditional storage racks.
In addition to being space-saving, compact equipment is also usually more portable and can be easily moved from one location to another. This makes it ideal for those who have limited space and need to rearrange their workout area periodically.
Samson Space Savers
The Flex-Rack FTR (Flex-Rack Functional Training Rack) is a unique product that has been designed with both space and functionality in mind. By integrating a cable column machine inside a half rack, double rack, or power rack, the FTR saves valuable floor space and allows you to move more athletes through your weight room. This makes it ideal for facilities with limited space or high athlete-to-equipment ratios.
One of the standout features of the FTR is its versatility. It provides a multitude of workouts, all with the same equipment, giving you more bang for your buck. It's also great for functional training, as it allows for a wide range of motion, making it possible to train multiple muscle groups at the same time. Whether you're looking to build strength, improve power, or increase flexibility, the Flex Rack FTR has you covered.
In addition to its versatility, the FTR is also designed for ease of use. It's intuitive and straightforward, making it accessible to athletes of all levels, from beginner to advanced. Whether you're an experienced weightlifter or just starting out, you'll be able to find the right workout for you.
Samson 100CS-VS Bench
The Combo Bench Vertical Storage, a reliable and durable option for all your training needs. This bench features an adjustable design that can be easily adjusted from flat to a 90-degree angle, allowing for a wide range of exercises. The included spotter plates, coated with anti-skid powder, provide a secure surface for overhead lifts and provide added safety for spotters. The vertical storage bracket allows for easy storage, taking up minimal space in your weight room. We pride ourselves on using only the best materials, and the Samson Standard Bench is no exception. The bench is constructed with .188 gauge steel, ensuring a long-lasting and sturdy design.
By implementing these tips, you can save space in your weight room and create a more efficient and functional workout environmen
Our Collaborative Planning Process allows you to prepare your project stress free by allowing our team to become your personal project manager.  The real-time planning and organization of thoughts gives you back time and clarity as a leader.  If you'd like to schedule a FREE CONSULTATION, please fill out this form.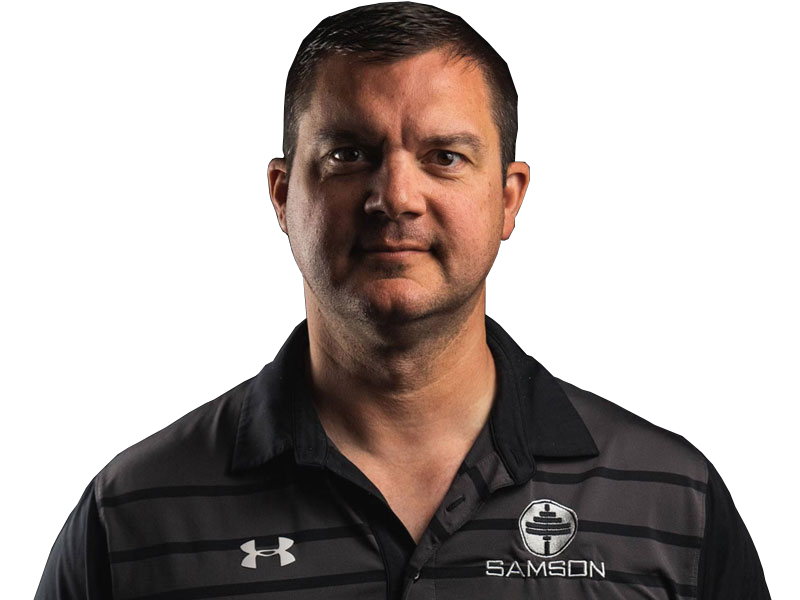 Email Sales Director, Scott Schroeder for your free layout consultation:
800-472-6766 ext 202
Director of Sales , Samson